Luxury house – Berlin model
Information
An impressive Berlin luxury villa. This is a home that empowers the open space by setting the different spaces within a formal unity of a modern house with flat roofs. We combine the presence of water in swimming pools and patios, in which every interior space enjoys its own exterior view, upgrading the spaces.
This is a more than 500 m² two-storey house, where the day area is located on the ground floor and the night area on the first floor. It's a modern minimalistic modular house with all the comforts and luxuries of an authentic luxury villa. The ground floor enjoys a magnificent gym and a working area ideal for working from home.
This high-end prefabricated house also has an impressive guest room with all services, which is completely independent from the main house, as well as pantries, walk-in closets, suite bedrooms, kitchens, every need that a luxury client asks for in a warm and modern design.
Plans
Ground floor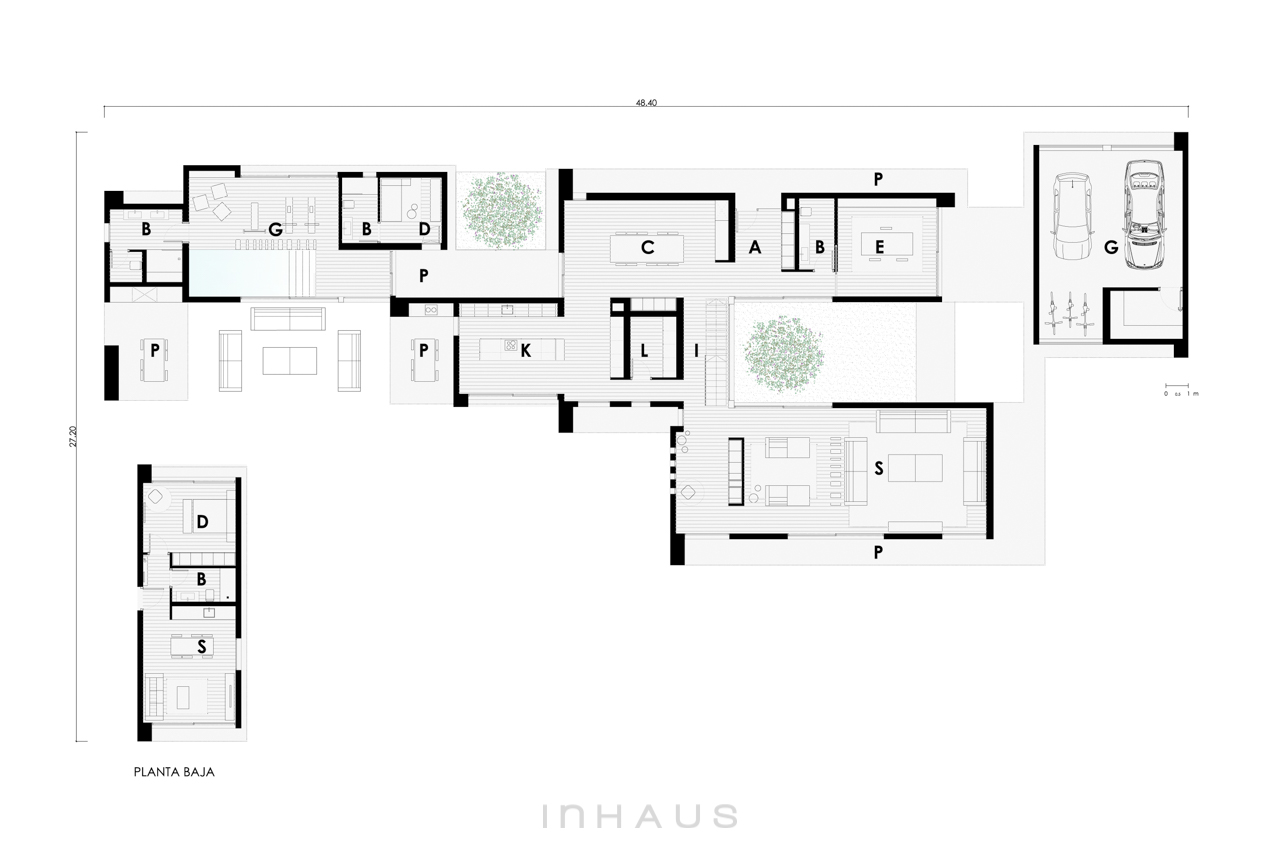 First floor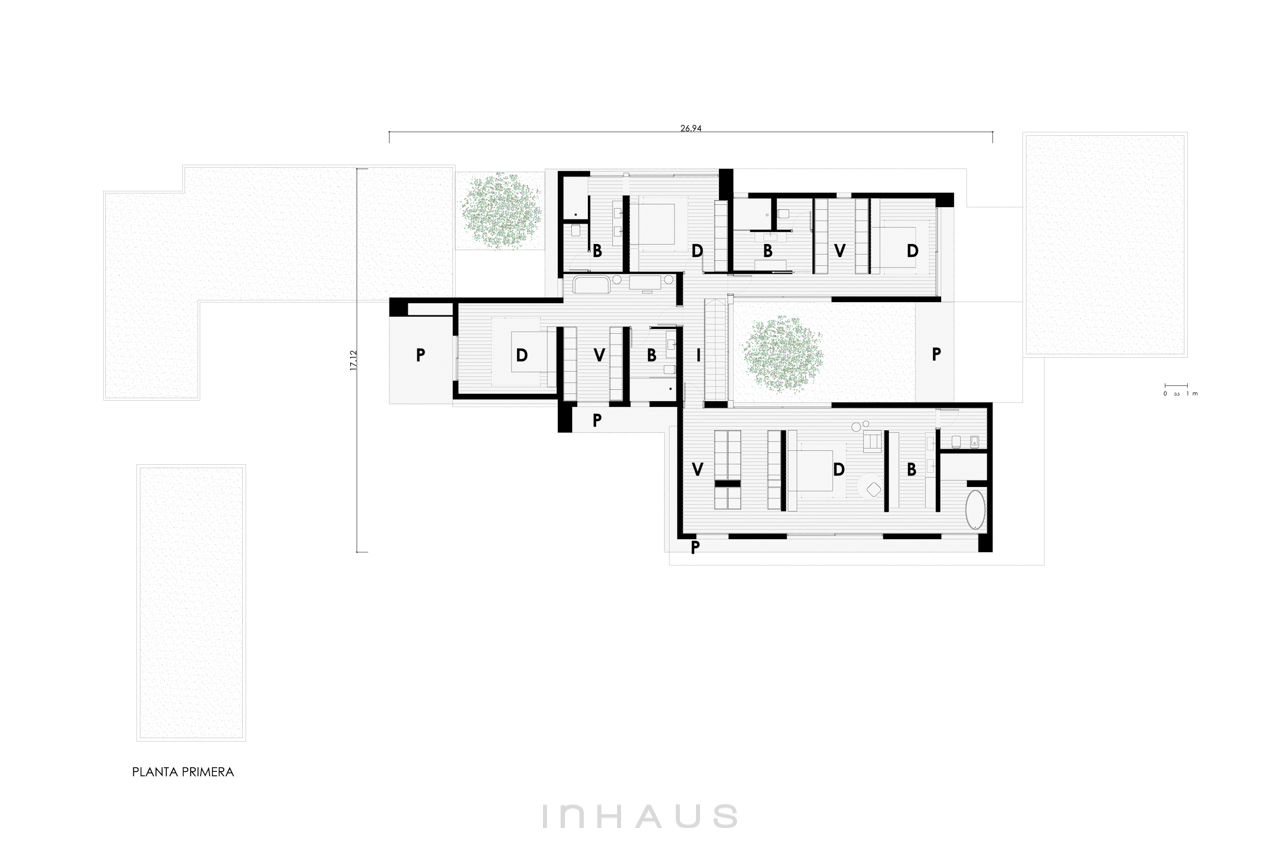 | | |
| --- | --- |
| USEFUL SURFACE (walkable) | 721,37 m2 |
| DWELLING | 496,66 m2 |
| PORCHES | 172,10 m2 |
| GARAGE | 52,61 m2 |
| | |
| GROUND FLOOR | |
| DWELLING | 259,49 m2 |
| staircase | 9,96 m2 |
| hallway | 12,00 m2 |
| living room | 77,30 m2 |
| dining room | 35,16 m2 |
| kitchen | 31,37 m2 |
| guest room | 14,52 m2 |
| guest bathroom | 4,26 m2 |
| toilet | 4,98 m2 |
| office | 19,30 m2 |
| multipurpose room | 5,55 m2 |
| fitness room | 41,00 m2 |
| | |
| PORCHES | 129,69 m2 |
| porch entrance | 20,68 m2 |
| porch kitchen | 1,33 m2 |
| porch living room | 34,53 m2 |
| porch gym 01 | 19,76 m2 |
| porch gym 02 | 1,53 m2 |
| porch guest room | 7,71 m2 |
| porch garage | 27,13 m2 |
| | |
| GARAGE | 52,61 m2 |
| garage | 45,67 m2 |
| storage room | 6,94 m2 |
| | |
| FIRST FLOOR | |
| DWELLING | 194,23 m2 |
| staircase | 11,36 m2 |
| bathroom 01 | 10,77 m2 |
| bathroom 02 | 6,71 m2 |
| bathroom 03 | 10,86 m2 |
| dressing room 01 | 8,85 m2 |
| dressing room 02 | 8,10 m2 |
| bedroom 01 | 18,22 m2 |
| bedroom 02 | 29,94 m2 |
| bedroom 03 | 18,86 m2 |
| master bedroom | 29,25 m2 |
| master dressing room | 22,57 m2 |
| master bathroom | 18,74 m2 |
| | |
| PORCHES | 42,41 m2 |
| porch master bedroom | 16,23 m2 |
| porch bedroom 01 | 4,02 m2 |
| porch bedroom 02 | 12,00 m2 |
| porch bedroom 03 | 10,16 m2 |
| | |
| --- | --- |
| CONSTRUCTED SURFACE | 839,82 m2 |
| DWELLING | 605,44 m2 |
| PORCHES | 172,10 m2 |
| GARAGE | 62,28 m2 |
| | |
| GROUND FLOOR | |
| dwelling | 314,16 m2 |
| dwelling guest | 52,65 m2 |
| porches | 129,69 m2 |
| | |
| FIRST FLOOR | |
| dwelling | 238,63 m2 |
| porches | 42,41 m2 |