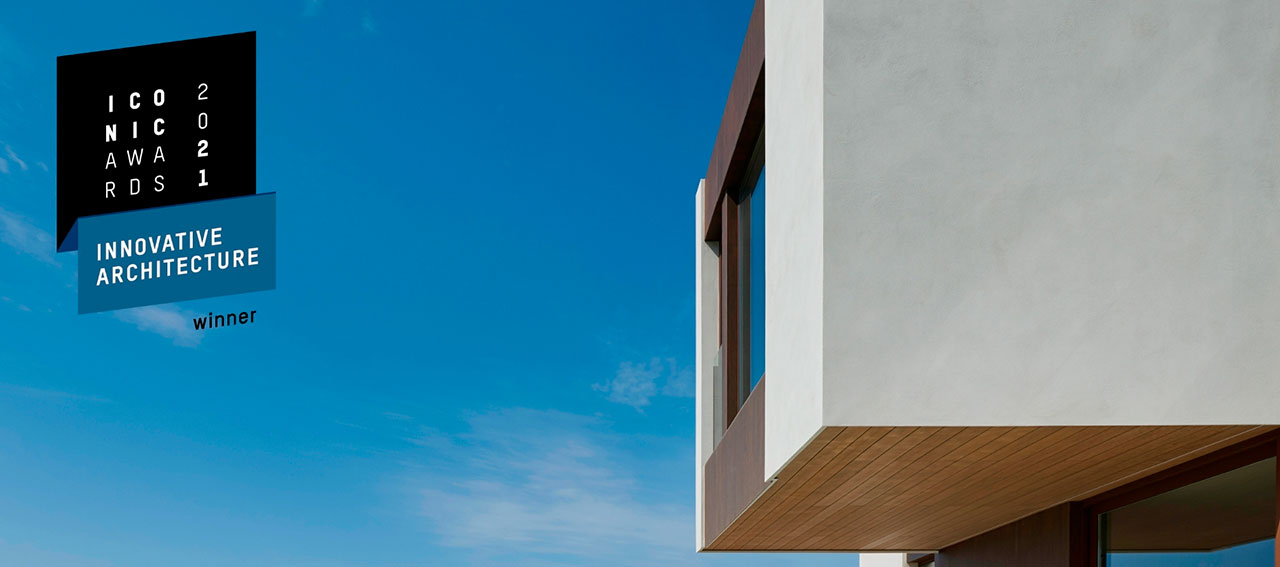 The German Design Council recognizes the innovative architecture of an inHAUS modular home
inHAUS has been honoured with an Iconic Award – Innovative Architecture. The German Design Council has awarded the innovative architecture of the Valencian premium prefabricated housing company for a single-family custom home in Barcelona. inHAUS wins its first Iconic Awards in its first participation and with only one nomination.
On the one hand, the Iconic Award for architecture from the German Design Council (GDC) recognizes an innovative design and construction. Specifically, this custom house by inHAUS in Barcelona. Moreover, this project has already been distinguished with an iF Design 2021 award, also in Germany. It also received an honorable mention at the World of Modular 2021. Such an honor at the most important international event in the modular sector.
Inspirational freshness and visionary strength. These were two of the elements most valued by the international jury of the awards, according to official sources of the organization.
inHAUS: innovative architecture
The Iconic Award for Innovative Architecture is the first independent international architecture and design competition that takes into consideration the interaction between various disciplines. As a result, awards are given for visionary buildings, innovative products and sustainable communication in all sectors. This means that they range from architecture, construction, and real estate to manufacturing industries.
Thus, the focus is on the interaction between the trades in the context of architecture and on holistic production. The doctrine of holism takes the conception of each product as a whole, instead of being the sum of its component parts.
Iconic Award, the third award for this prefabricated house
The custom home in Barcelona has received this Iconic Award in Frankfurt, completing a trio of awards. It is the third, after those received in Hannover (Germany) and Virginia (USA). Therefore, this prefabricated house, a specific integral design by inHAUS, has won two awards in just a few months. The first one in the United States, and the other one in Germany.
The German Design Council (in German, Rat für Formgebung) is one of the most important places for expertise in design and architecture around the world. The GDC works as a connector between designers and the construction industry. Its awards are considered an independent seal of quality, with international prestige. Why? Because it celebrates contemporary developments and creative achievements.
It was originally founded in 1953 by the Federation of German Industries and several leading companies. This happens due to the initiative of the Bundestag (German Bundestag). The German Design Council looks for good design through its competitions, exhibitions, conferences, seminars and publications. Currently, more than 350 German and international companies are members of the German Design Council.