High-end prefab house – Stuttgart model
Information
The Stuttgart model is a high-end design house that seduces with its volumetry and its marked horizontal lines. Its L-shape allows all spaces to be oriented towards the terrace and garden, as well as to be protected from outside views while preserving a certain privacy. A high tech quality house offering everything you need for your future home.
The ground floor spaces are divided, but remain connected. The fluidity of the spaces creates rich spatial sequences and generates a natural hierarchy of spaces. The luxury Stuttgart model offers great flexibility in the interior design of the spaces.
The night area is located on the first floor of the house. The three large bedrooms and the master bedroom are separated by a functional, yet elegant staircase, allowing natural light to enter through its full height openings.
This Stuttgart house design industrialized house ticks all the boxes and is a perfect fit for lovers of large, bright spaces connected to their outdoor environment.
Plans
Ground floor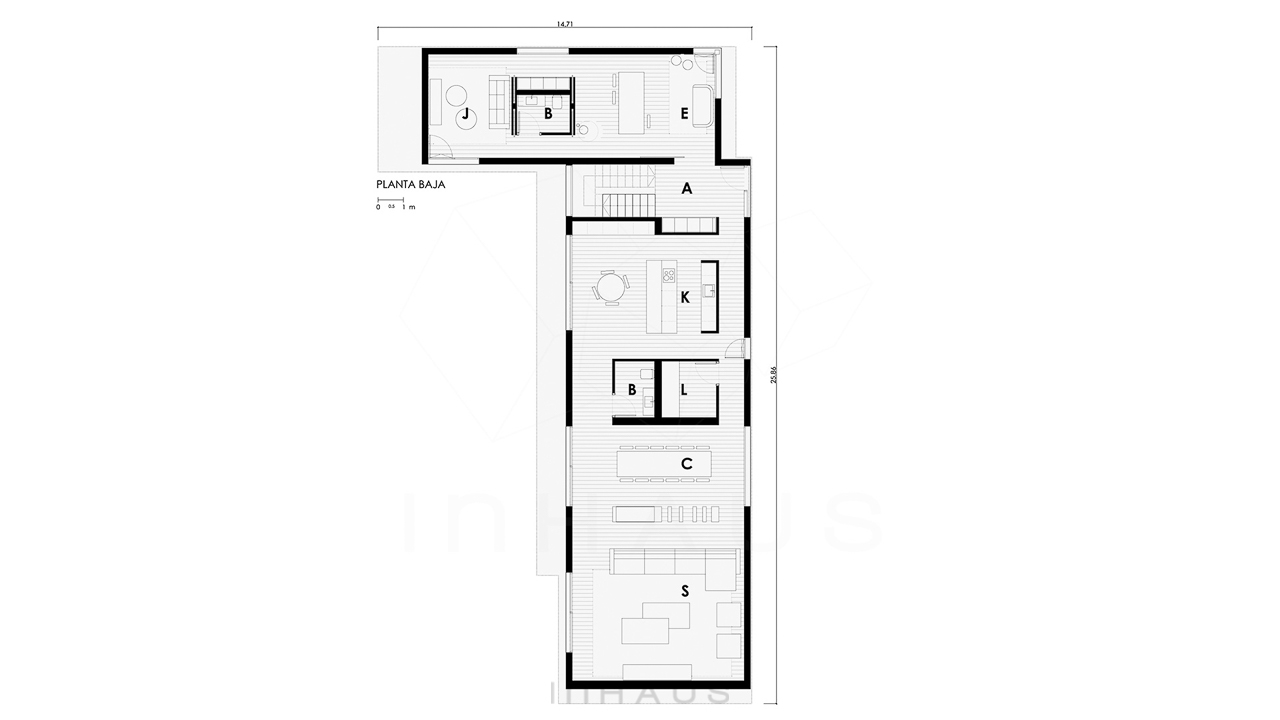 First floor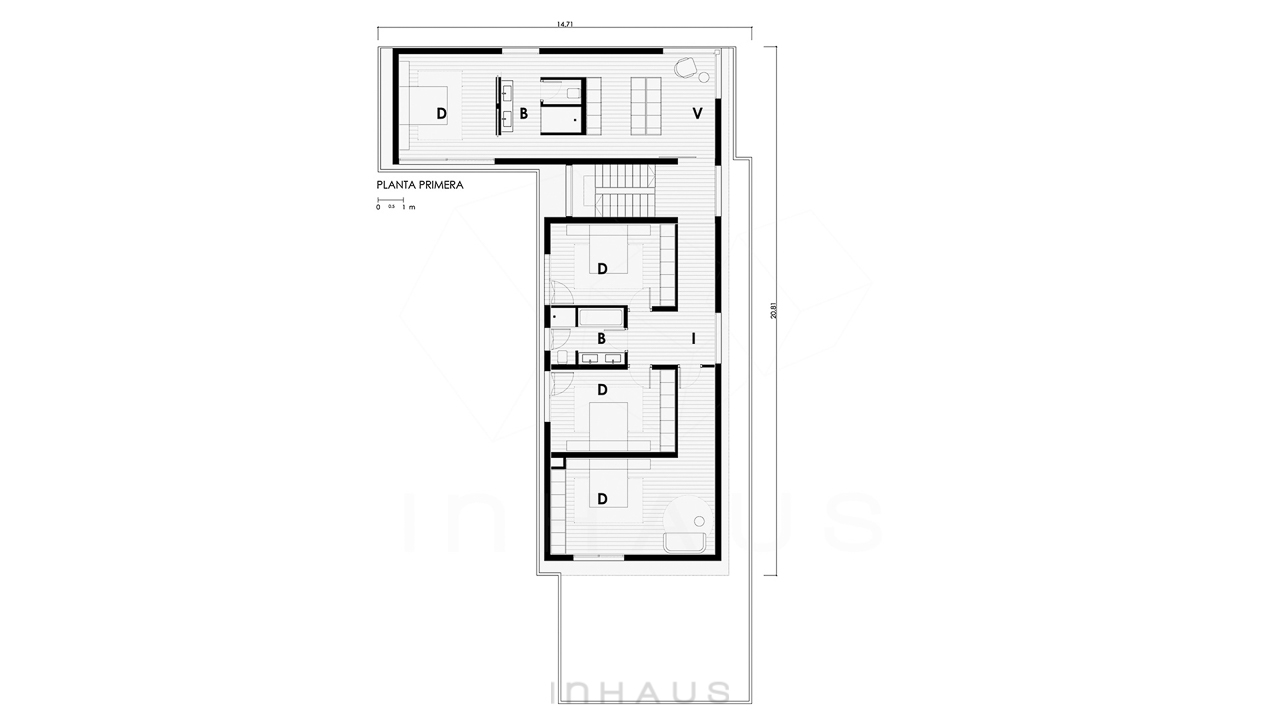 | | |
| --- | --- |
| USEFUL SURFACE (walkable) | 386,43 m2 |
| DWELLING | 325,96 m2 |
| PORCHES | 60,47 m2 |
| | |
| GROUND FLOOR | |
| DWELLING | 184,60 m2 |
| entrance | 8,53 m2 |
| staircase | 6,78 m2 |
| hallway | 3,32 m2 |
| living-dining room | 74,71 m2 |
| kitchen | 35,50 m2 |
| laundry room | 4,75 m2 |
| bathroom 01 | 3,28 m2 |
| toilet | 3,43 m2 |
| office | 22,86 m2 |
| play room | 21,44 m2 |
| | |
| PORCHES | 38,42 m2 |
| | |
| FIRST FLOOR | |
| DWELLING | 141,36 m2 |
| staircase | 11,66 m2 |
| hallway | 12,61 m2 |
| bathroom 02 | 6,83 m2 |
| bathroom 03 | 12,72 m2 |
| dressing room | 20,64 m2 |
| bedroom 01 | 15,54 m2 |
| bedroom 02 | 15,89 m2 |
| bedroom 03 | 16,02 m2 |
| bedroom 04 | 29,45 m2 |
| | |
| PORCHES | 22,05 m2 |
| perimeter porch | 22,05 m2 |
| | |
| --- | --- |
| CONSTRUCTED SURFACE | 430,64 m2 |
| DWELLING | 370,17 m2 |
| PORCHES | 60,47 m2 |
| | |
| GROUND FLOOR | |
| dwelling | 204,13 m2 |
| porches | 38,42 m2 |
| | |
| FIRST FLOOR | |
| dwelling | 166,04 m2 |
| porches | 22,05 m2 |