High-tech house – Luzern model
Information
Single-story industrialized design house composed of four wings that stretch across the plot and are connected by the heart of the house, the living room. The house is proposed in a High Tech style, marked by the duality of its materials and its horizontal design lines.
A design, which combines harmony, functionality and comfort, ideal for a large family thanks to the versatility of its spaces and the multiplicity of its functions.
A generous program, consisting of a master bedroom with dressing room and spacious bathroom and three large bedrooms sharing two bathrooms, as well as a guest room that can also be used as a gym. In a separate wing, a room that can be used as a private service area with its own kitchen and bathroom. A garage, with two parking spaces, completes the program of the Luzern model home.
The heart of this upscale home is a large kitchen-dining room overlooking the garden. The living areas benefit from several porches, allowing the different parts of the house to be connected.
The spatial richness of the Luzern modular house model comes from its particular volumetry, generating generous spaces, oriented to the outside and to the inside of the house, thanks to crossed views.
Plans
Ground floor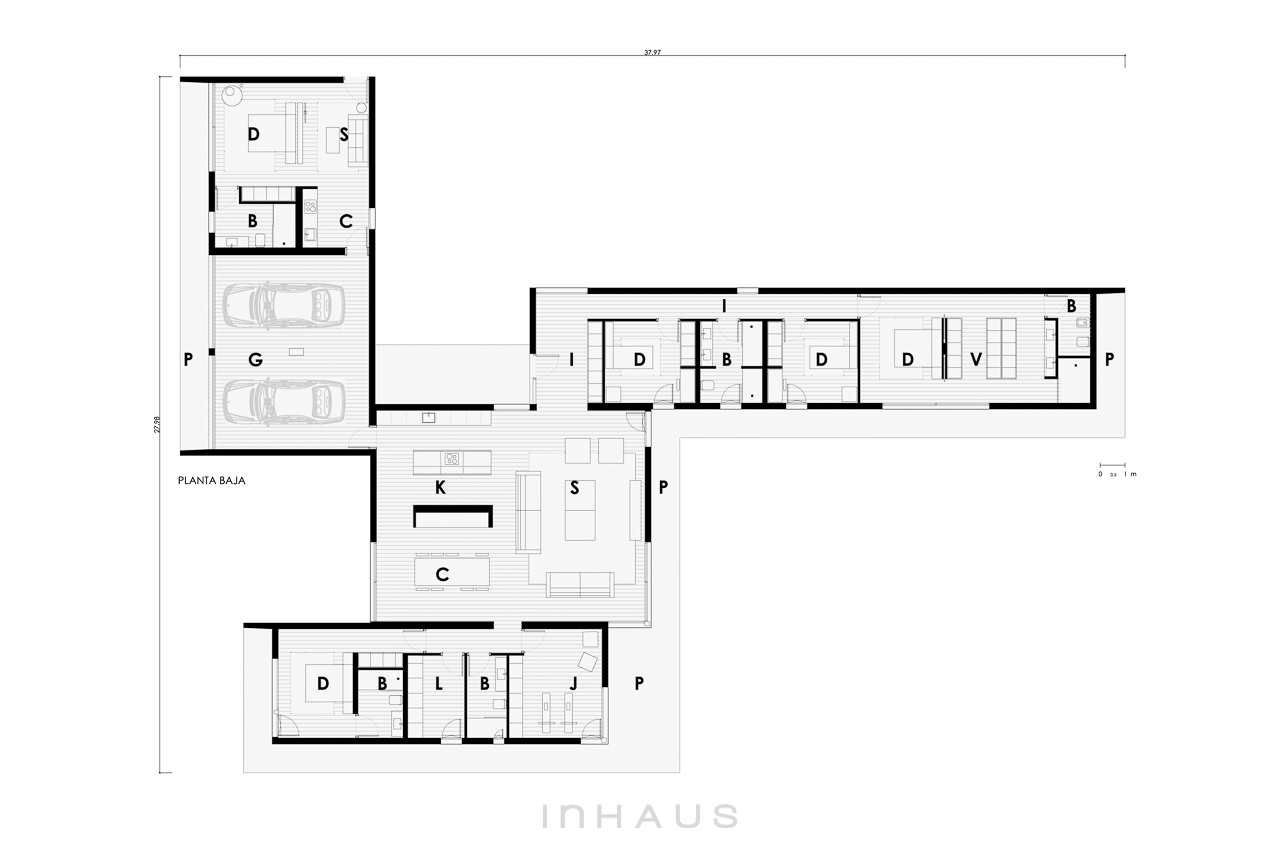 | | |
| --- | --- |
| USEFUL SURFACE (walkable) | 431,43 m2 |
| DWELLING | 276,27 m2 |
| PORCHES | 106,83 m2 |
| GARAGE | 48,33 m2 |
| | |
| GROUND FLOOR | |
| DWELLING | 237,92 m2 |
| entrance | 11,15 m2 |
| hallway 01 | 10,85 m2 |
| hallway 02 | 4,05 m2 |
| living room | 52,48 m2 |
| living room 01 | 11,95 m2 |
| dining room | 20,47 m2 |
| kitchen | 17,50 m2 |
| kitchen 01 | 6,30 m2 |
| laundry room | 7,54 m2 |
| bathroom 01 | 8,05 m2 |
| bathroom 02 | 4,91 m2 |
| bathroom 03 | 5,29 m2 |
| guest room | 13,82 m2 |
| guest bathroom | 6,28 m2 |
| bedroom 01 | 11,83 m2 |
| bedroom 02 | 11,83 m2 |
| bedroom 03 | 17,01 m2 |
| master bedroom | 14,02 m2 |
| master dressing room | 17,58 m2 |
| master bathroom | 7,66 m2 |
| play room | 15,70 m2 |
| | |
| PORCHES | 106,83 m2 |
| porch 01 | 75,00 m2 |
| porch 02 | 17,00 m2 |
| porch 03 | 14,83 m2 |
| | |
| GARAGE | 48,33 m2 |
| garage | 48,33 m2 |
| | |
| --- | --- |
| CONSTRUCTED SURFACE | 484,94 m2 |
| DWELLING | 323,22 m2 |
| PORCHES | 107,81 m2 |
| GARAGE | 53,91 m2 |
| | |
| GROUND FLOOR | |
| dwelling | 275,24 m2 |
| dwelling guest | 47,98 m2 |
| porches | 107,81 m2 |
| garage | 53,91 m2 |