High-end house – Nürnberg model
Information
The spaciousness between the spaces in this Nürnberg high-end modular house model make them look bigger than they are, obtaining the maximum profit of them.
A volume that stands out due to its large cantilevers that contribute to increase the interior comfort by protecting the wide glass panels that focus the views from the outside to the inside area. In this two-storey house we have a large day area with an independent kitchen connected to a great outdoor dining room and another interior dining room topped with a sculptural one-flight staircase facing the porch in a spectacular double height.
The ground floor plan is completed by a magnificent master bedroom. On the first floor, three double bedrooms with their own bathroom, walk-in closet and a multifunctional space opened to the double height of the living room.
Plans
Ground floor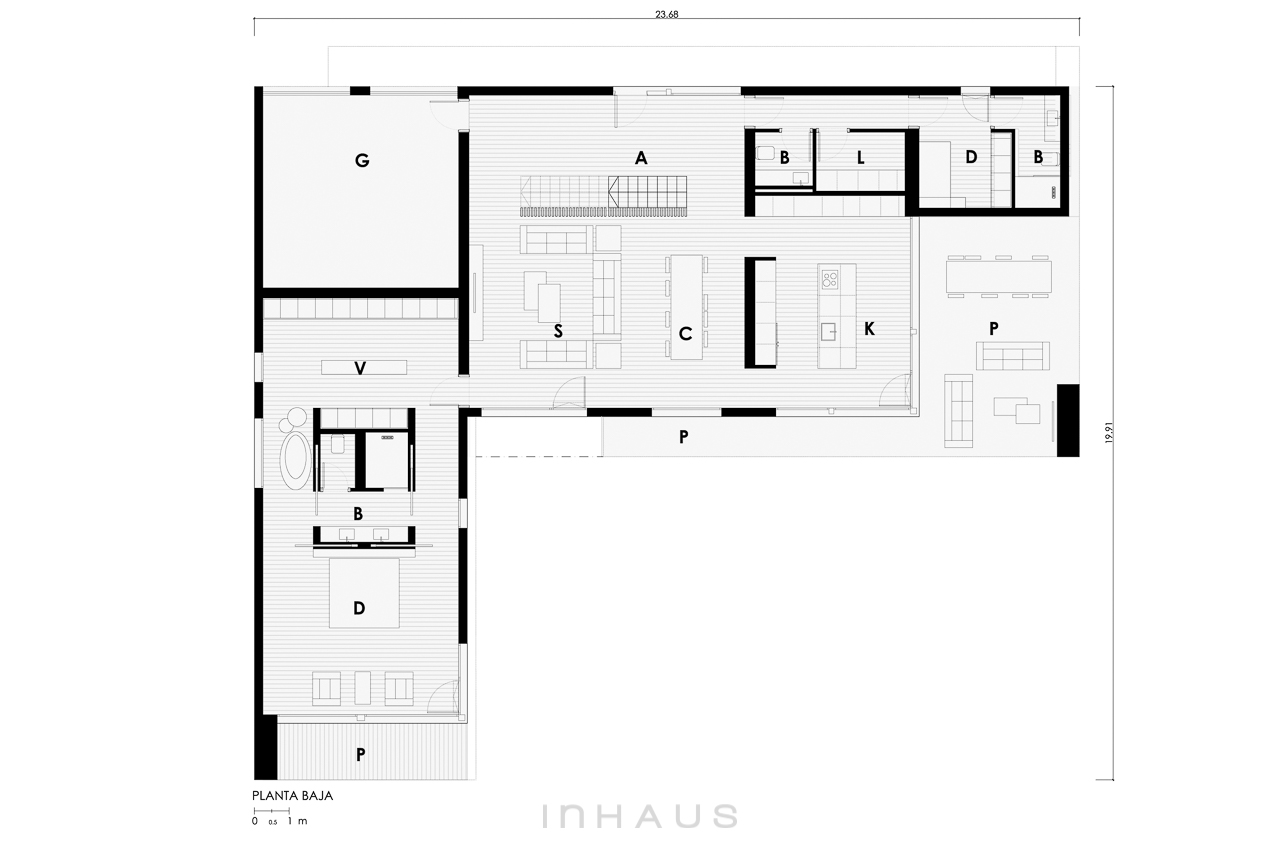 First floor
| | |
| --- | --- |
| USEFUL SURFACE (walkable) | 478,96 m2 |
| DWELLING | 448,38 m2 |
| GARAGE | 30,58 m2 |
| | |
| GROUND FLOOR | |
| DWELLING | 234,19 m2 |
| entrance | 21,39 m2 |
| living room | 25,21 m2 |
| dining room | 20,49 m2 |
| kitchen | 27,85 m2 |
| laundry room | 4,42 m2 |
| bathroom 01 | 5,41 m2 |
| toilet | 2,53 m2 |
| bedroom 01 | 8,26 m2 |
| master bedroom | 26,29 m2 |
| master dressing room | 18,92 m2 |
| master bathroom | 17,88 m2 |
| | |
| PORCHES | 55,54 m2 |
| | |
| GARAGE | 30,58 m2 |
| garage | 30,58 m2 |
| | |
| FIRST FLOOR | |
| DWELLING | 214,19 m2 |
| bathroom 02 | 10,84 m2 |
| bathroom 03 | 10,64 m2 |
| bathroom 04 | 11,76 m2 |
| bedroom 02 | 19,21 m2 |
| bedroom 03 | 14,89 m2 |
| bedroom 04 | 20,32 m2 |
| office | 30,02 m2 |
| double height | 35,29 m2 |
| | |
| TERRACE | 61,22 m2 |
| terrace | 61,22 m2 |
| | |
| --- | --- |
| CONSTRUCTED SURFACE | 562,29 m2 |
| DWELLING | 525,12 m2 |
| GARAGE | 37,17 m2 |
| | |
| GROUND FLOOR | |
| dwelling | 271,11 m2 |
| garage | 37.17 m2 |
| | |
| FIRST FLOOR | |
| dwelling | 254,01 m2 |