Private universe in a Mediterranean-style house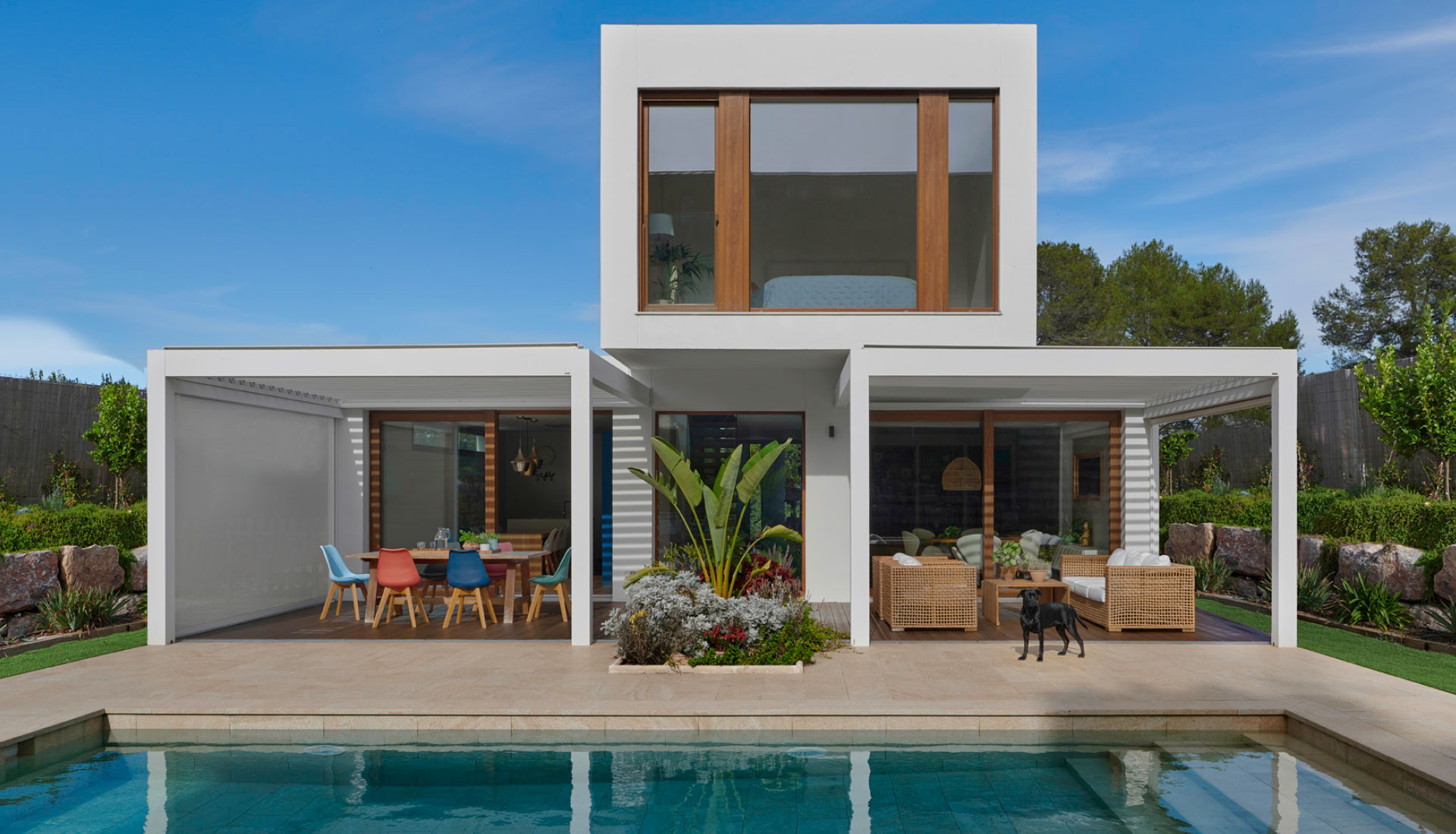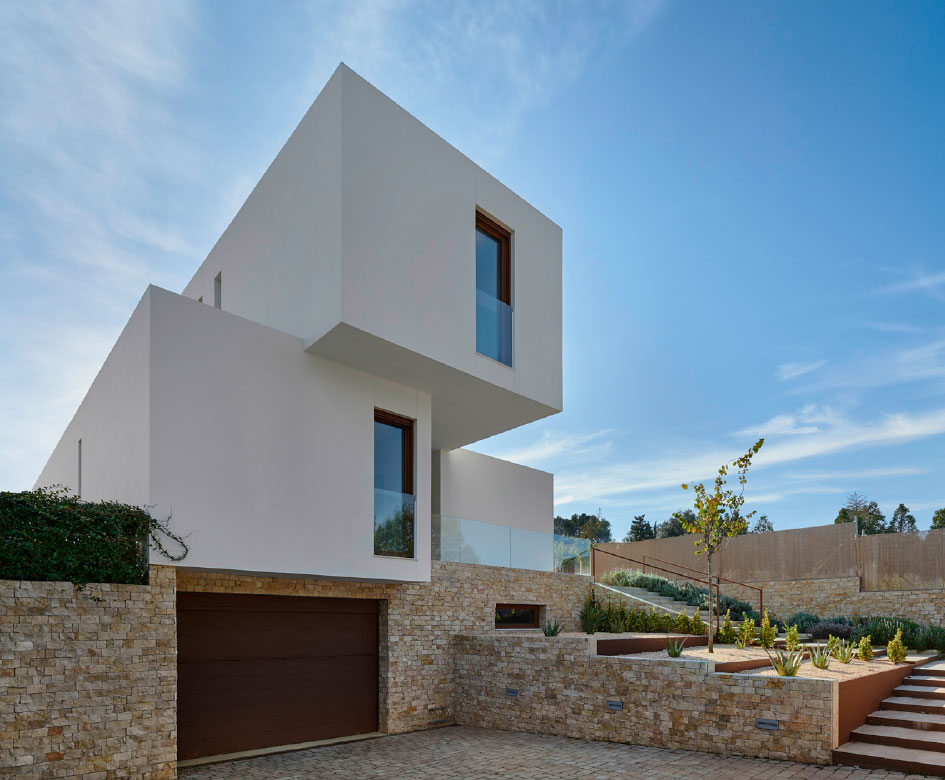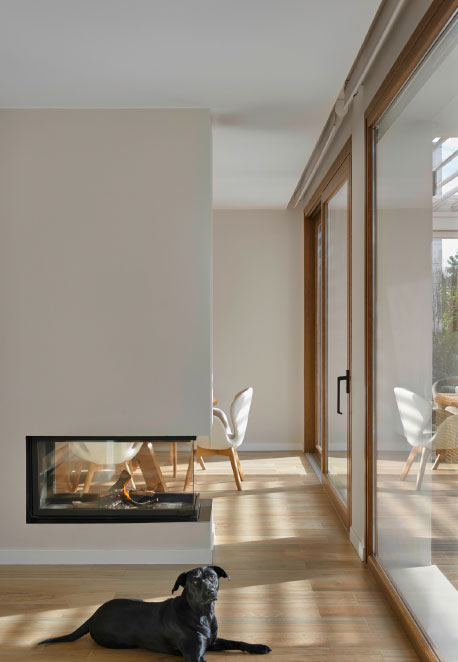 Calm and relax for everyone.
MORAIRA MODEL
In the surroundings of Barcelona, this house is located in a landscape that combines the charm of the sea breeze with the Mediterranean forest. A set of rounded volumes that combine continuous white cladding on its façades with the stone masonry of the plinth, that surrounds the subway parking, give a typical Mediterranean vernacular character to this house that has all the comforts and facilities of the 21st century.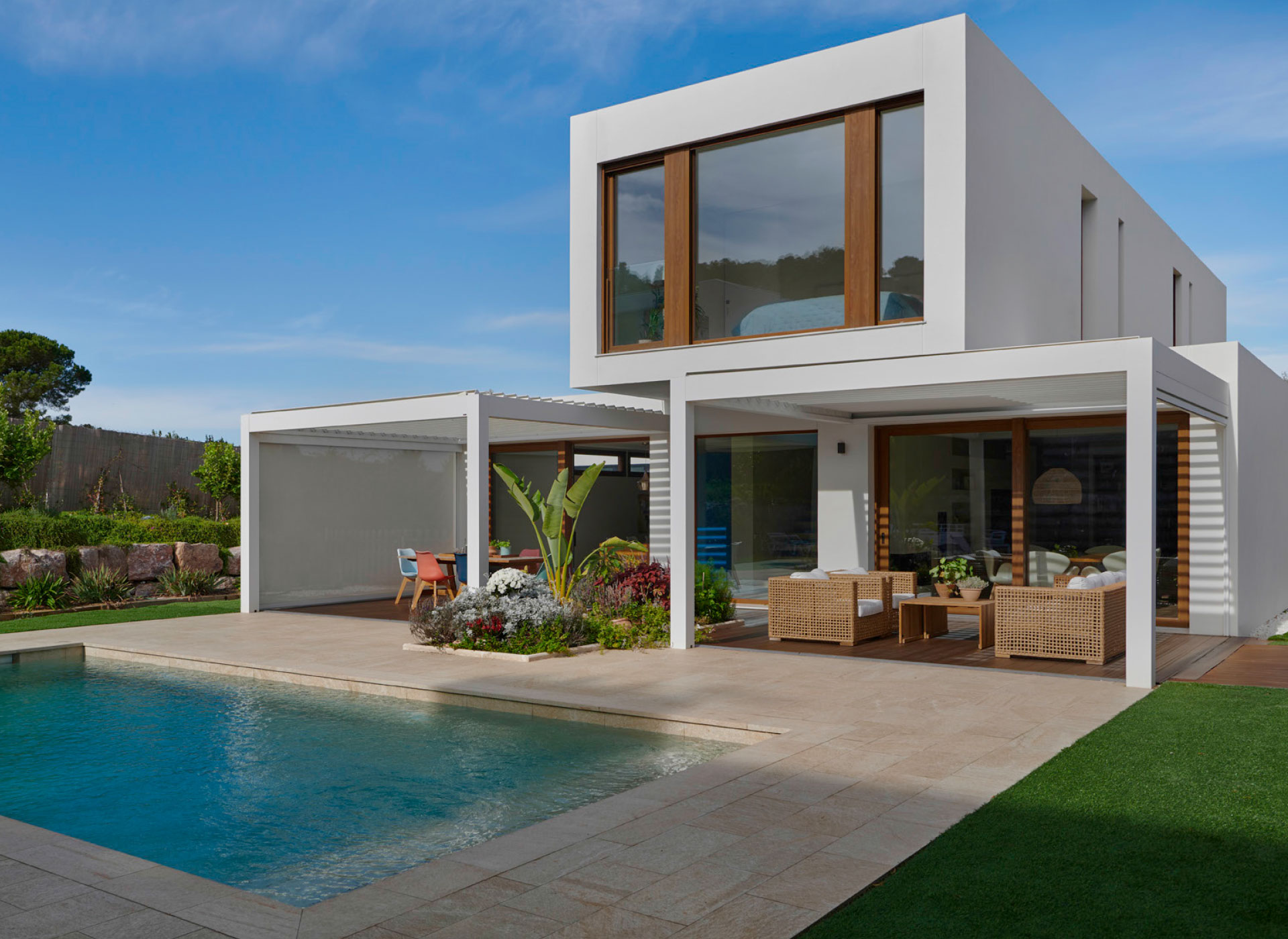 ARCHITRENDS
"A beautiful, terraced garden and light railings accompany the path from the access to the plot, without limiting the view of the volumes of the house, to the closest façade that ensures the house from the street and where the access to the interior of the house is located through a large pivoting wooden door."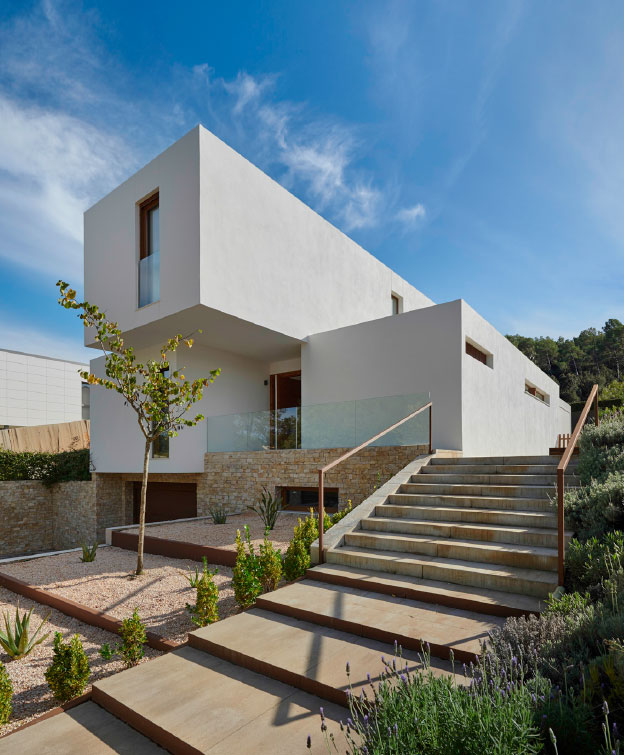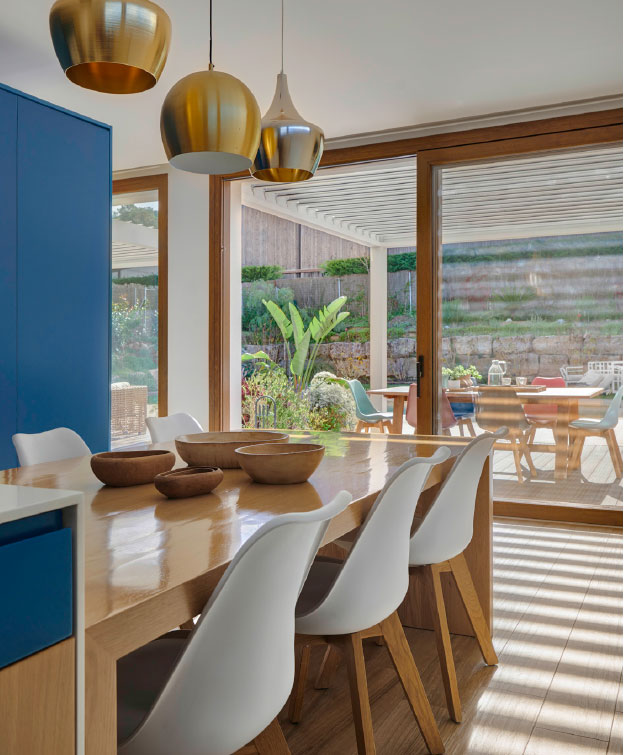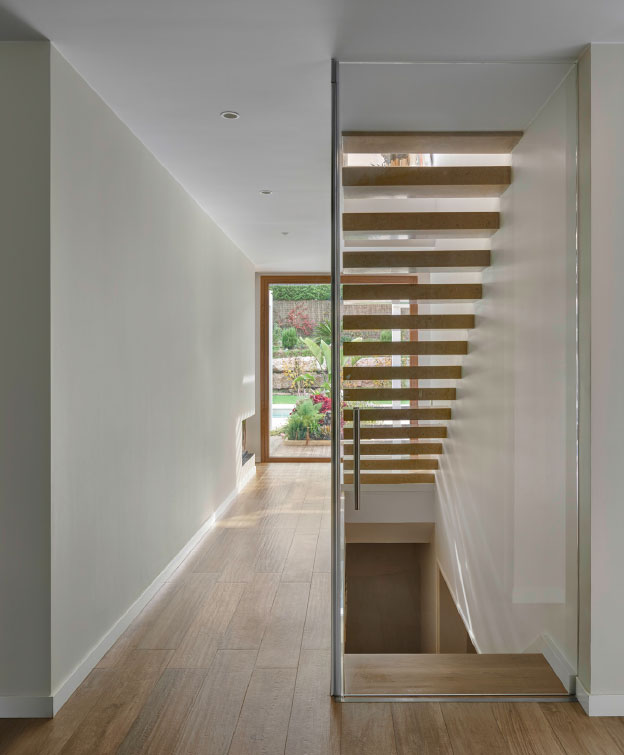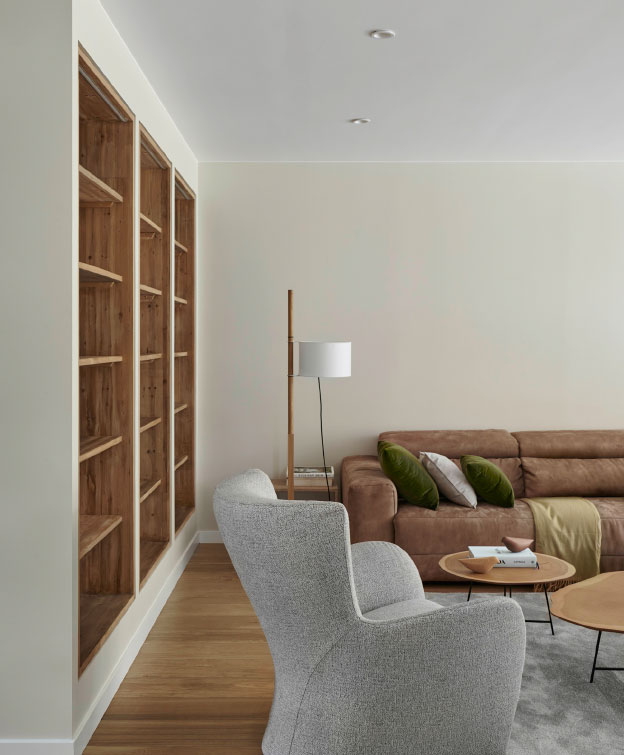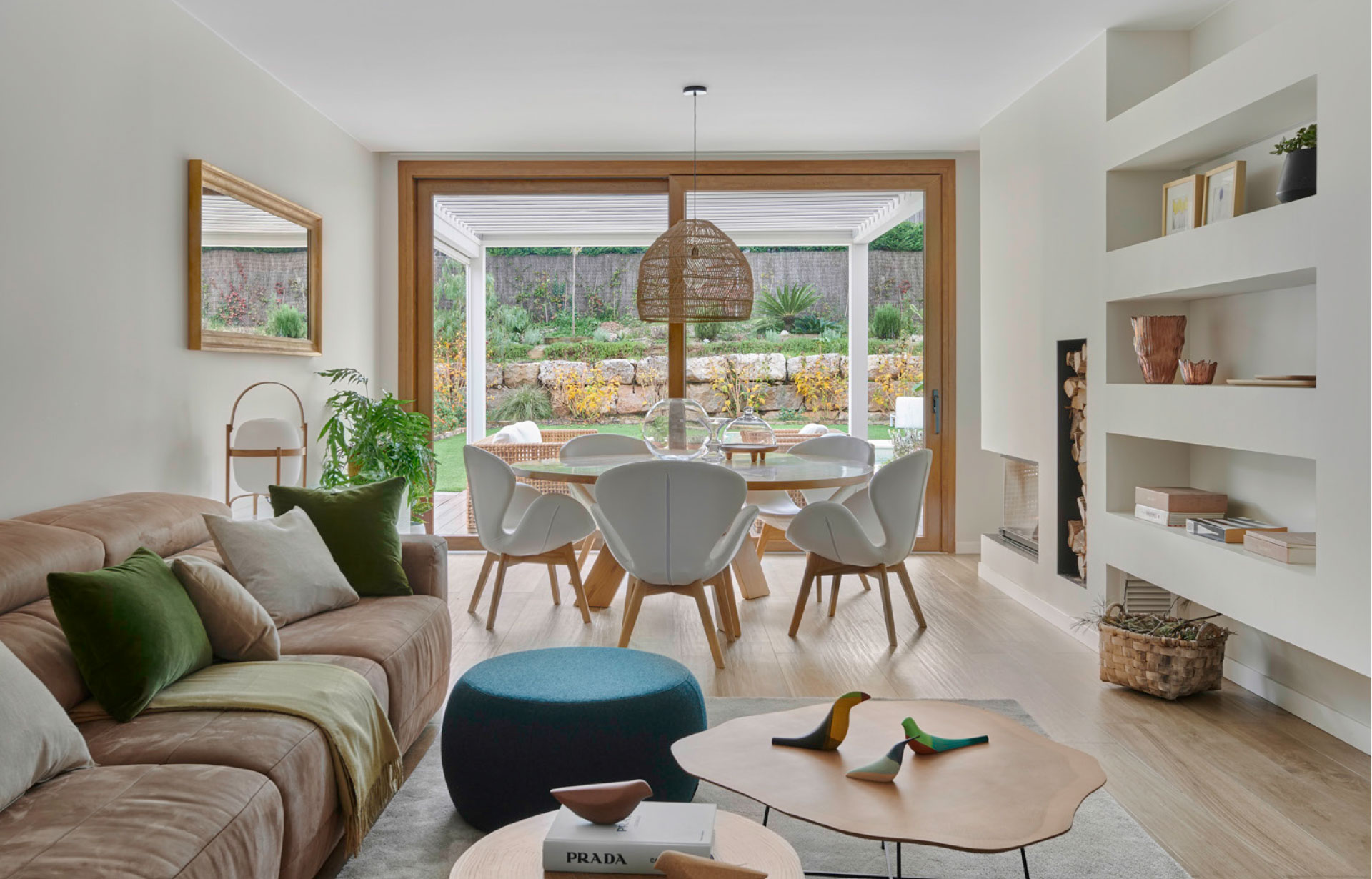 On the ground floor we find the living-room separated from the access space, where the sculptural staircase is located, but visually connected thanks to the double-sided fireplace that enhances the fluidity of these spaces, leading to the terrace at the back and its amazing garden.
The whole set gives warmth to this premium modular house based in the Moraira model of our 111 inHAUS Catalogue.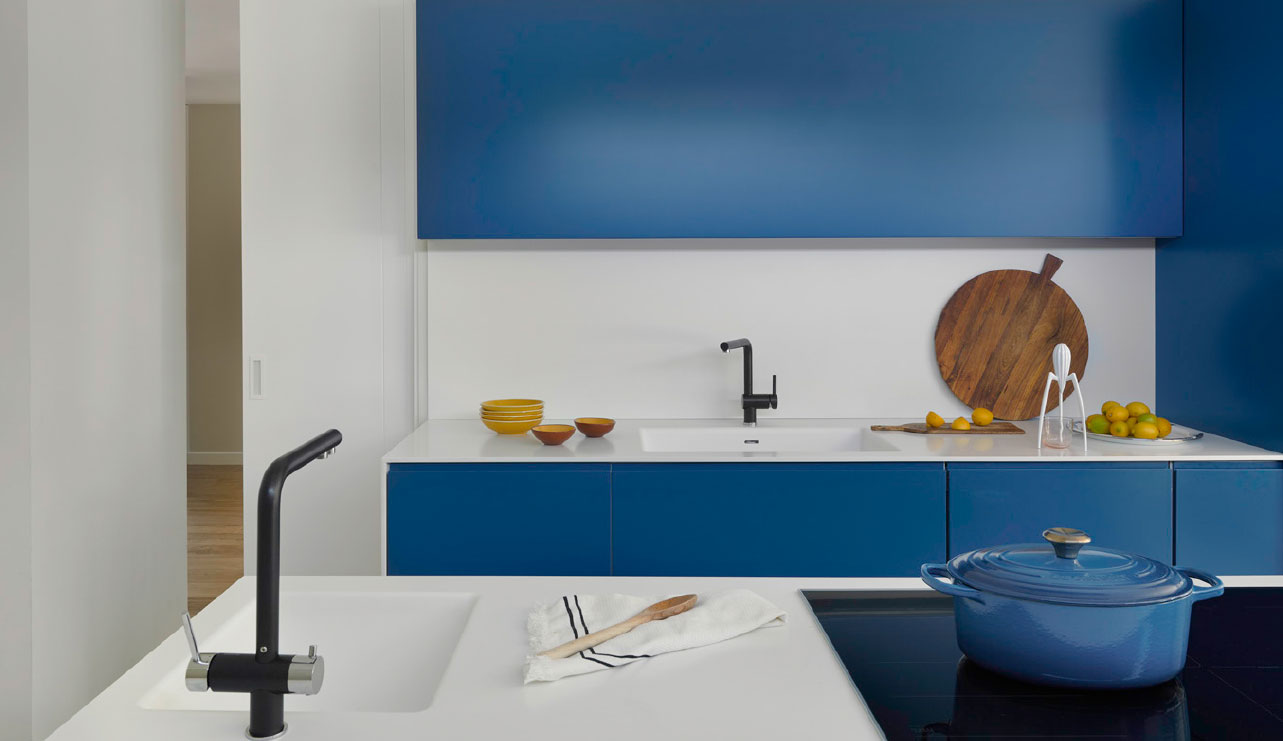 On the opposite side we find the large kitchen in blue tones that communicates seamlessly with the access space and the living-room area along the large glass façade that blurs the boundaries between indoor and outdoor space. On this same level we also find a service area and a large pantry located in the adjacent space to the kitchen.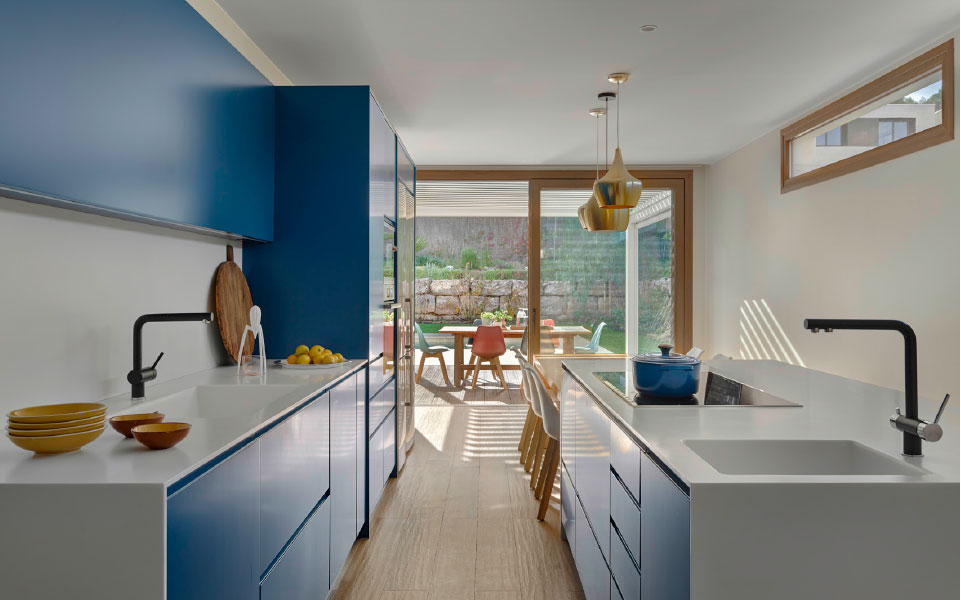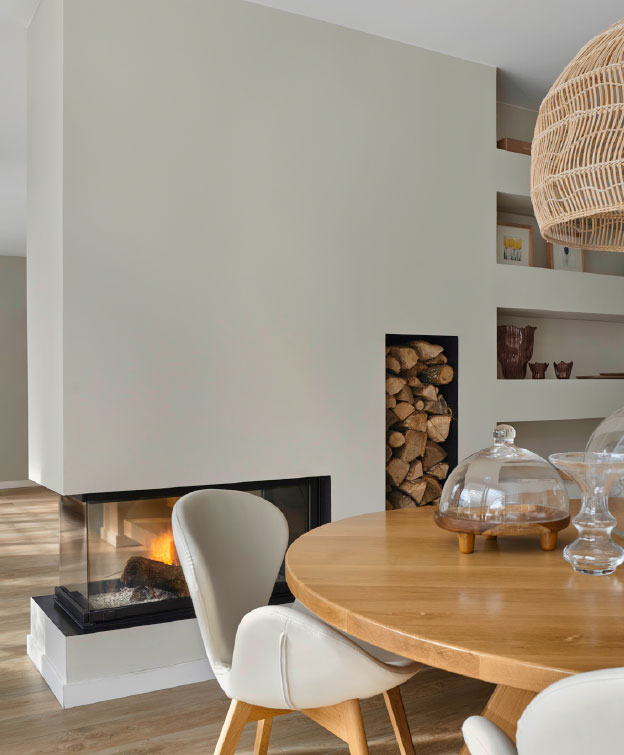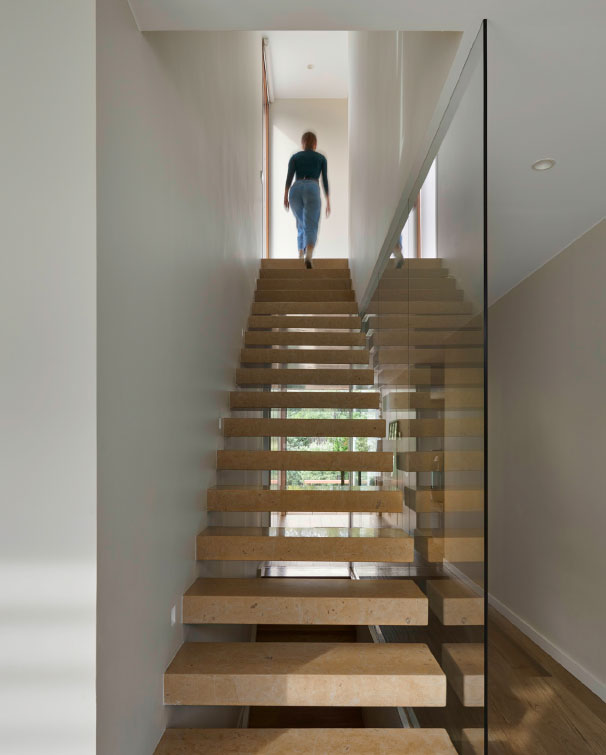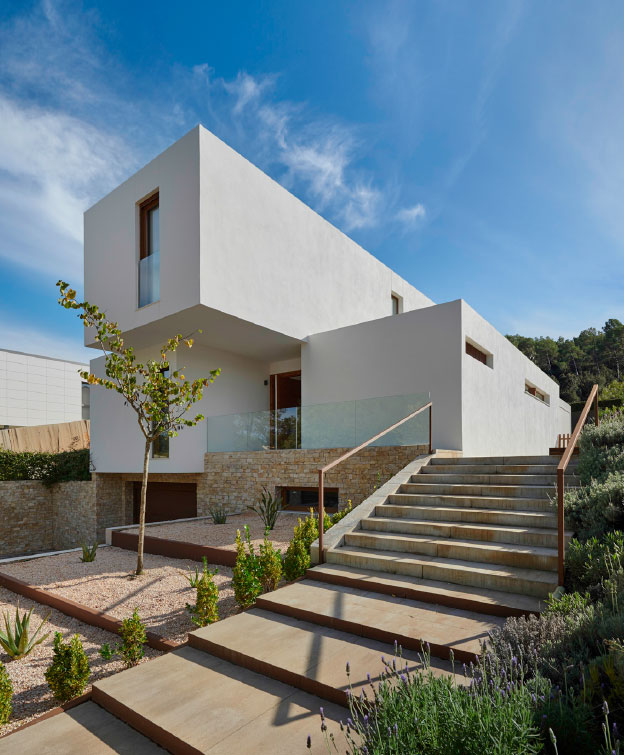 Ground Floor
Spaces full of light, soft, natural colours and warm textures provide a cuddling feeling where you can enjoy the calm when you get home.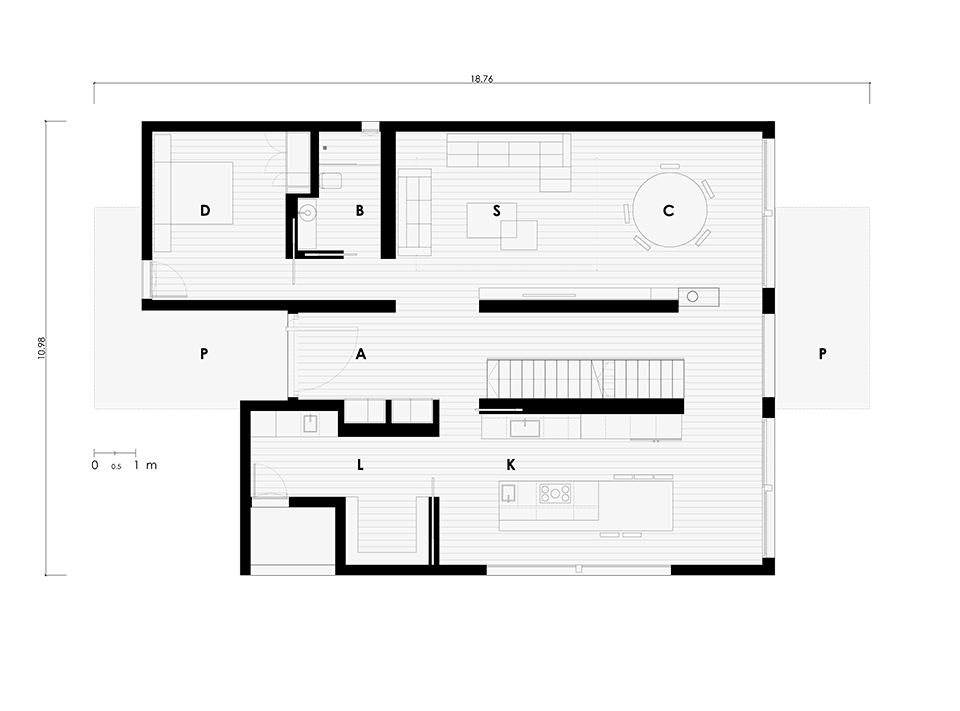 First Floor
In less than a year, this spectacular house has become the setting for a family's home in a coastal town in the province of Barcelona.
Quality of details, A energy efficiency and premium materials, plus the advantages of industrialized construction and a turnkey service.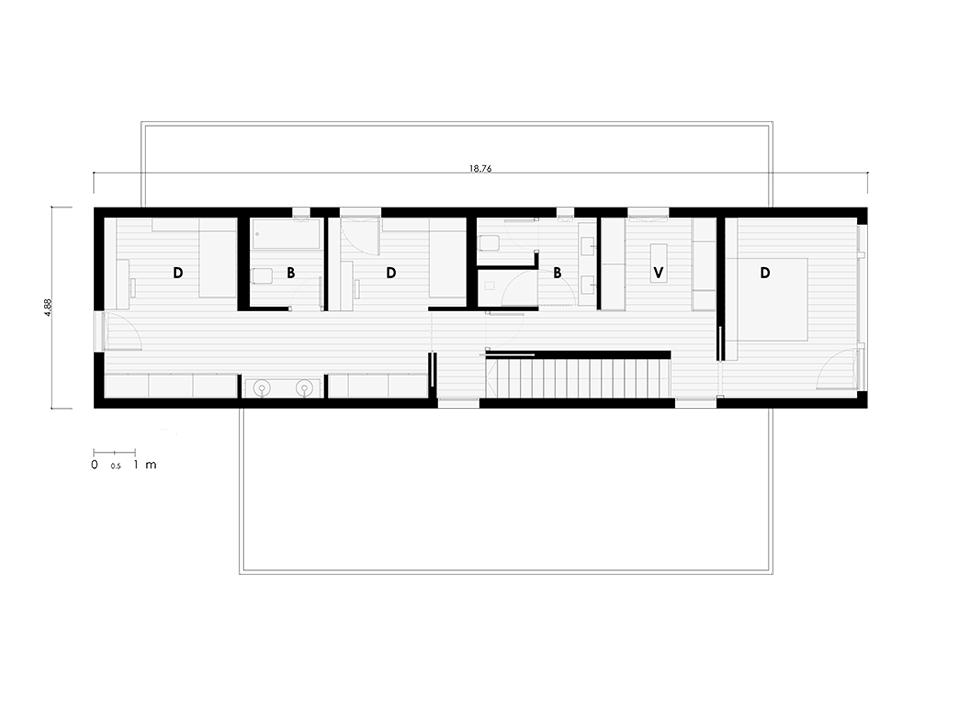 Quality details
and premium
finishes.
On the first floor there are two very different areas divided by the staircase. On the one hand we have the master bedroom and its wide views to the garden that also owns a bathroom and walk-in closet separated from the sleeping space by a discreet sliding door.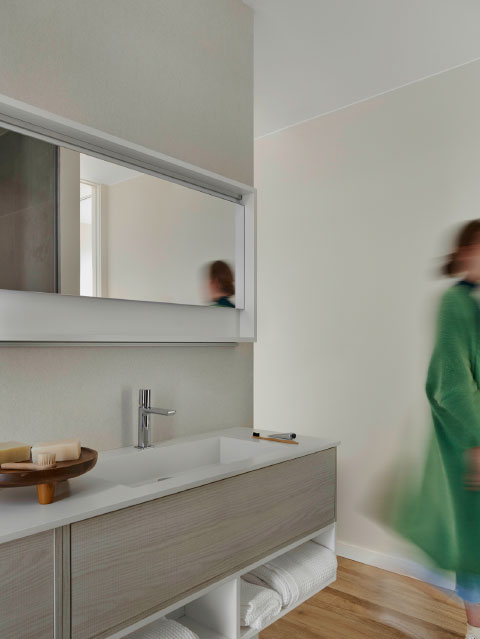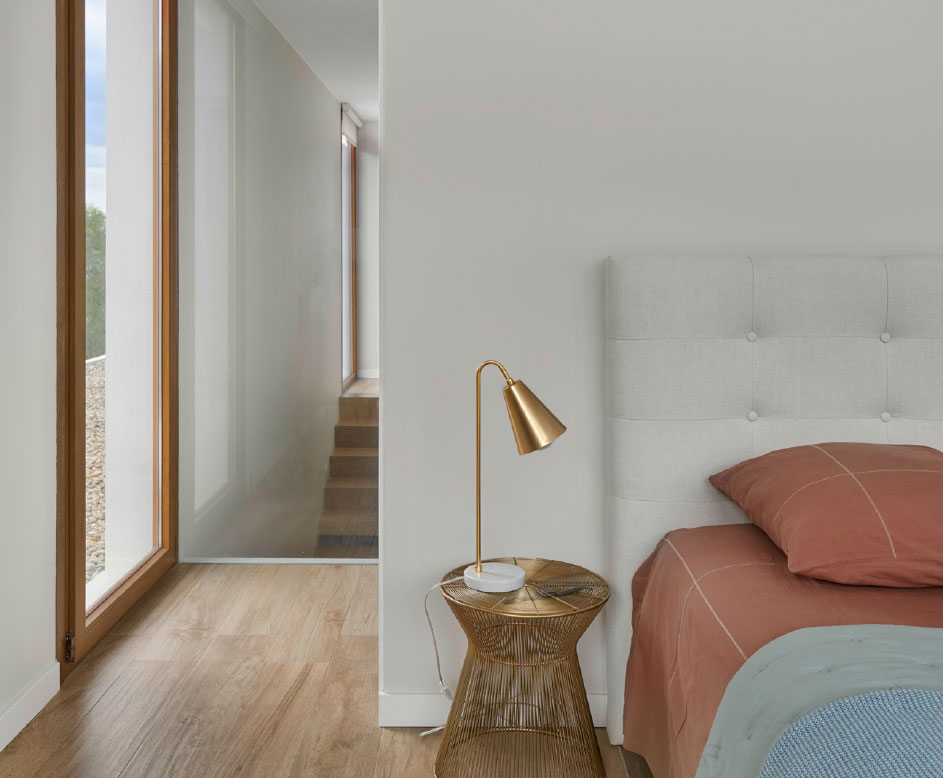 IMPLANTATION
On a beautiful summer morning, this house, formed by 3 prefabricated modules that were moved in special transport by road from the inHAUS factory in Valencia, was implanted in less than 6 hours. Its owners were able to closely follow the building process thanks to the continuous information of the project manager, but the implantation day will remain in their memories forever. The day their new home arrived.